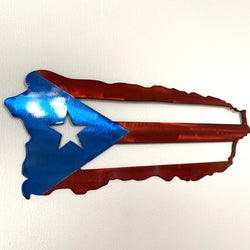 Puerto Rico Flag Map Metal Wall Art
Esta impresionante obra de arte en acero combina un icónico y detallado mapa de Puerto Rico con su bandera, creando un diseño único, brillante y llamativo.
¡El regalo ideal para los boricuas de la isla, la diáspora o cualquier persona que tenga la isla cerca de su corazón!
Características principales:
Materiales de alta calidad:

 

 Esta pieza rústica está hecha con precision en  acero calibre 16. Los colores brillantes de la bandera se pintan a mano con pintura automotriz para garantizar su durabilidad y belleza.

Dos tama

ñ

os disponibles: 20" x 7" y  24" x 12"

Artesanía de calidad:

 

Elaborado minuciosamente en un cortador de plasma, y pintada a mano para asegurar que los detalles de la bandera se representen de manera precisa. 

Decoración versátil:  Ideal para exhibir en cualquier lugar de tu hogar, tu balcon, terraza, jardín, oficina o negocio, añade un toque de tradición puertorriqueña a cualquier espacio. 

Fácil instalación:

 

Cuélgala fácilmente en tu pared con ganchos soldados en la parte posterior.

Hecho en USA:

 

Todo el proceso de fabricación de la bandera se realiza en Florida en un taller de propiedad familiar, para garantizar el control de calidad y un enfoque práctico en la producción.
¡ENVÍO GRATIS! Oferta por tiempo limitado:

 

 Envío gratis a PUERTO RICO y a los Estados Unidos continentales. 
¡Celebra la cultura, el patrimonio y la resilencia de la isla con la Bandera de Puerto Rico en Metal!

¡Añádela a tu colección o regálala a alguien especial hoy mismo!
Consulta las Políticas de Envío y Devolución para obtener más información.
ENGLISH VERSION:
Explore the rich heritage and vibrant spirit of Puerto Rico with our beautifully crafted Puerto Rico Metal Flag Map Wall Art.  This stunning piece of art combines an iconic detailed map of Puerto Rico with its flag, creating a unique shinny and eye-catching design.

The ideal gift for proud Boricuas of the island, the diaspora, or anyone who holds the island close to their heart!

Key Features:
Quality Craftsmanship: Meticulously handcrafted to ensure the flag details are exquisitely portrayed. 

High-Quality Materials: This piece is made from 16-gauge steel. Vibrant glossy colors are added, hand-painted with Automotive paint to ensure durability and long-lasting beauty.

Artistry in Metal: This Puerto Rico Metal Flag showcases the geography of  Puerto Rico and the vibrant colors of our flag.

Versatile Decor: Perfect for both indoor and outdoor spaces, our Metal Flag adds a touch of Boricua pride to any setting. Perfect for displaying in any place in your home, your porch, terace, garden, office or business, it adds a touch of Puerto Rican charm and tradition to any space.

Easy Installation: Hang it effortlessly on your wall with hangers welded in the back.

Made in USA: The entire flag-making process is done in Florida in a family business-owned workshop, to ensure quality control and a hands-on approach to production.
Celebrate the island's culture, heritage, and resilience with our Puerto Rico Metal Map Flag. Add it to your collection or gift it to someone special today!
SHIPPING:

 Free Shipping to USA and PUERTO RICO
Look at the Shipping and Refund Policies tab for more information.
FREE SHIPPING TO CONTINENTAL USA.
Products are shipped to Puerto Rico and the USA with free shipping. The product specifies if it can be shipped to Puerto Rico. 

Please allow about 5-7 business days for it to be made, it usually takes 5 to 10 business days more to be delivered to you from USA.
Tracking information will be sent as soon as it is in the mail or can be found in the Track Orders Menu.

Due to carrier's service it could take

 more time than estimated to arrive at certain destinations.
Some products are available only to the continental USA
REFUND POLICIES
This product is made especially for you at the moment you place your order it. It cannot be exchanged or returned. Making products on demand instead of in bulk helps reduce overproduction, so thank you for making thoughtful purchasing decisions!     
Due to our items being personalized and made-on-demand, we are unable to accept any returns. Please make sure to select the correct size and color.
Only the products that arrive with the wrong design or manufacturing defects can be replaced. In such instances, you must send us an email with a photo and explanation in no less than three days upon the arrival of the product to novacasastore@gmail.com
DURABILITY
Most of our metal signs are powder coated for maximum durability that will last for decades.
* However, if a metal sign is ordered in our Silver finish, it can rust if left in the elements for extended periods of time. 
DISCLAIMER
The product images shown are for illustration purposes only and may not be an exact representation of the product size. Please verify the actual product size in the product description.
Props in the photos such as ornaments, furniture, shelving, plants, etc., are not included with the product, these are used for décor only.
Bandera de Puerto Rico
Acabo de recibir mi bandera de PR y es bella, me encantó el material y el brillo que tiene que la hace ver delicada.
Bandera de Puerto Rico
Acabo de recibir mi bandera de PR y es bella, me encantó el material y el brillo que tiene que la hace ver delicada.
Bandera de Puerto Rico
Acabo de recibir mi bandera de PR y es bella, me encantó el material y el brillo que tiene que la hace ver delicada.