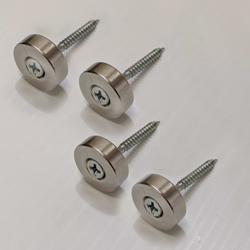 Magnetic Hanging Hardware
You no longer have to try to figure out the best way to hang our metal signs!
These magnets are simple to install and easy to hide behind your sign. All you have to do is screw the magnets into your wall at your desired locations. Place the metal sign on top to cover up any part of the magnet. With no hanging hardware actually showing, your sign will look its best!
You will receive 4 round magnets and 4 screws. No other materials necessary.
The magnets measure 0.75" in diameter. They are 0.25" thick. The screws measure 1.5" long. 
These magnets will hold any of our signs (excluding clocks) up to and including the 23.5" size. The magnets will not work on clocks because the mechanism used to operate the clock hands is thicker than the magnets.
CAUTION: These are high powered magnets. Once these magnets are separated, please do not allow them to come in contact with one another or any metal surfaces as the impact will cause damage to the magnets or the magnetic surface. 
Please allow  3 to 7 business days to be delivered to you.
You have up to six hours from when the order is placed to make any changes or cancellations. After this period, we are unable to modify the order.
Tracking information will be sent as soon as it is in the mail or can be found in the Track Orders Menu.
Due to the pandemic situation, it could take more time than estimated to arrive at certain destinations.
Shipping is available only to the continental USA
REFUND POLICIES
Only the products that arrive with the wrong design or manufacturing defects can be replaced. In such instances, you must send us an email with a photo and explanation in no less than three days upon the arrival of the product to novacasastore@gmail.com
DISCLAIMER
The product images shown are for illustration purposes only and may not be an exact representation of the product size. Please verify the actual product size in the product description.